Newsletter For August 2020
"Do More Of What Makes You Happy." Is the quote of the month!

It's as simple as that sometimes when we tend to over think things it's best to have faith that everything will work themselves out and to take it day by day.

Doing more of what makes you happy for me is writing this newsletter for you.

I hope you enjoy reading it as much as I enjoy putting it together for you!

I am going to start incorporating a new monthly recipe that you can possibly eat that helps you with your hair growth journey in these newsletters. You seem to like them and I sure enjoy making them for you.
This is me enjoying my salmon stuffed eggs lakeside for my birthday!



Over this past weekend was my birthday weekend!
A special Happy Birthday to all of the August birthday sisters out there!!!
Me and my family had a great day at the lake!
It was so nice to get out of the house and enjoy a nice picnic outside. It was free to do and so rich for the soul to look at nature.
Between the squirrels, lake water views, smell of fresh cut grass, voices of laughter and great food (I share my recipe below) it was a great weekend!
I am sharing this to hopefully encourage you to enjoy sitting outside even if it's just on your shaded porch with a book or magazine for some relaxing time.
You would be surprised how much better you feel and relaxed which is a great way to improve hair growth, by beating stress.
Lakeside Salmon Stuffed Eggs
Recipe
Keep reading for my special salmon stuffed eggs recipe for hair growth!

My easy lakeside salmon stuffed eggs recipe Items needed:

12 eggs,

1 can 5 ounces of salmon,

3 tablespoons mayonnaise, 2 tablespoons Dijon mustard,

2 tablespoons sour cream,

1 teaspoon dill weed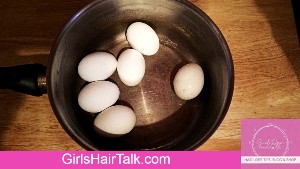 Boil eggs and peel the shells off eggs under cool water to make it easier to peel.
Cut into halves and remember to be gentle.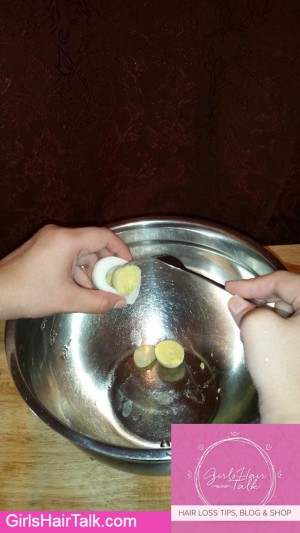 Gently separate the egg yolks from the egg whites.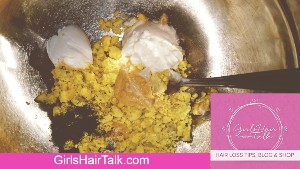 Mix yolk halves with the following:

3 tablespoons mayonnaise, 2 tablespoons Dijon mustard,

2 tablespoons sour cream,

1 teaspoon dill weed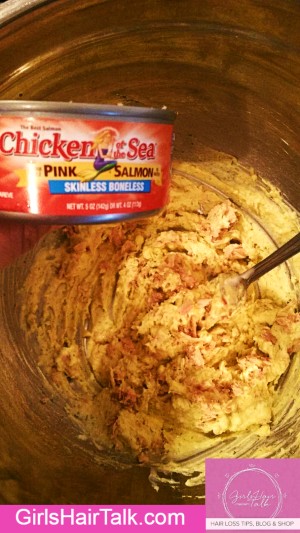 Stir in a 5 ounce drained can of salmon into yolk mixture as well.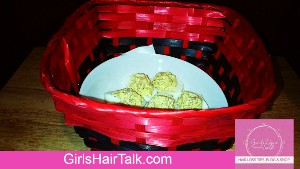 Gently place yolk mix into half cut egg whites, pack up for a picnic lunch and enjoy!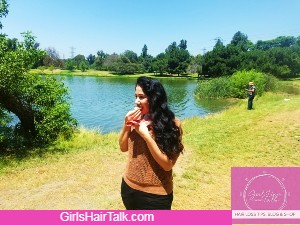 This is me enjoying my lakeside salmon stuffed eggs recipe that I made and shared special for you to try as well! They are so good y'all =)
Refrigerate at least 30 minutes or up to 24 hours before serving to guests.
Hair Growth Benefits
For Eating Eggs & Salmon!
Enjoy Benefits of eggs & salmon for hair growth:

Eggs are rich in protein which helps in making the hair follicle stronger. It stimulates hair growth in the scalp by strengthening the hair roots. Stronger hair is less expected to break and fall. Eggs also help keep hair shiny and pretty!

Tip! Remember: Both parts of the eggs (the egg yolks and egg whites) are important to eat to get the full hair growth benefits.

Vitamins A and E, biotin, and folate are just some of the nutrients that researchers have linked to get healthier hair growth and less hair loss which are found in eggs.

Salmon is packed with omega-3 fatty acids that help keep our scalp healthy which have been linked to improved hair growth and hair thickness.

Salmon also has good amounts of vitamin D, B vitamins and proteins to help keep hair strong.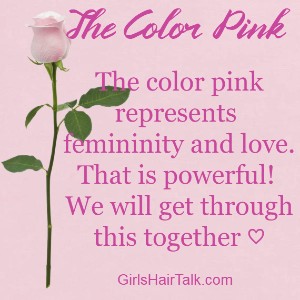 My Covid-19 Message Quote From Me To You <3



My Hair Growth Treatment Update!

My natural spa hair growth treatment is currently out of stock!

I want to thank all of you for your support! Every time I sell one I do a little happy dance because it's a win - win situation where you can get your hair growth and I get to help women look their best while earning for my family.

During this time it has meant more than you know! So a huge THANK YOU ladies!

I am currently creating new labels because I am adding a new ingredient to my hair growth treatment so that it can work even faster than the 4 months as previously stated!

Look out for the new and improved treatment coming soon!





New Blog Posts!
The keto diet is all the rage right now but is it causing hair loss?

Does The Keto Diet Cause Hair Loss? Click here to find out...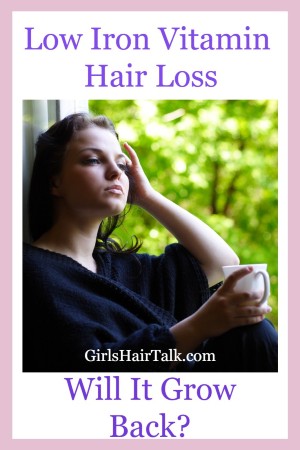 Iron is a very important nutrient to have in our bodies for hair growth but do you need iron supplements or can iron supplements actually cause hair loss?

Click here to find out if you need more iron or less?...



Please enjoy the rest of this summer, make the best of things and remember to Enjoy, Love And Laugh!

Love you so much!
---

((Hugs))- Margarite♡
---