My Keranique Review 
The #1 question I get is: What causes women's hair loss?

Answer: The root cause of women's hair loss is due to imbalanced hormones.
Find out if your hormones are balanced, Click here to take The Hormone Imbalance Quiz...


---
Hi y'all, I ordered the keranique kit for thinning hair. Here is my keranique review...
I used to have alot more hair before so I wanted to give this kit a try. 
The reason why I chose to get this kit is because they are the #1 selling hair loss and hair thinning kit in America. 
I will show you how I used this kit step by step, then I will answer a few questions and how I feel about this hair loss kit below. 
Opening The Kit : Keranique Review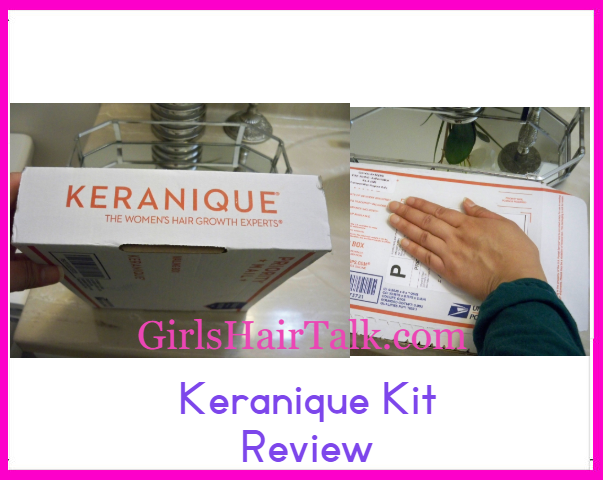 The keranique package after I ordered online.
I ordered my kit online straight from their website Keranique.com. Their kit arrived to my mail box in a USPS box with the words Keranique on the sides and back of the box. I wish the box was pretty but the shipping was free so I was happy about that.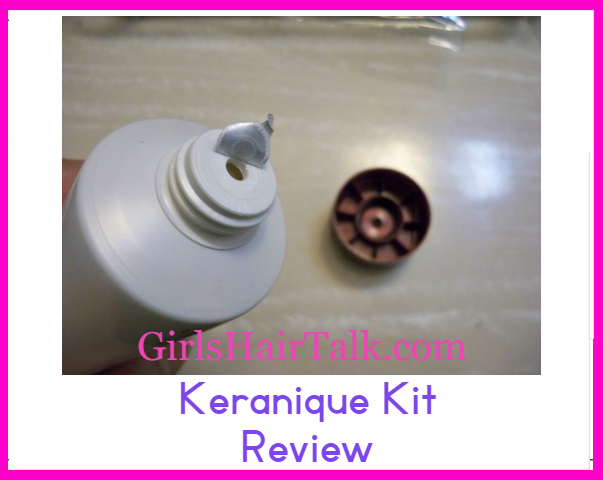 Sealed good, yet easy to open.
I was happy about how the products were sealed up so securely yet they were easy to open as well. I didn't need scissors to open anything which made me happy LOL. 
Step By Step How To Use The Products : Keranique Review
So now that I had everything open, I couldn't wait to smell the products first! LOL any one else do this before using a new shampoo?
The shampoo smelled like peppermint in fact all of the products in the kit had a peppermint scent to them. For some of you this could be a pro or a con. I will let you make that call.
As for me I felt it only made sense for hair growth products and what I kind of expected, yet of course I do wish it smelled of jasmine, or gardenias.
Step #1 Shampoo & Conditioner : Keranique Review
Keranique Kit Instructions were easy to read and understand.
First off the instructions were super easy to follow they were written on the back of the bottles and on an instruction manual inside the kit in large print, you can't miss it.  
I applied the shampoo and conditioner as seen here.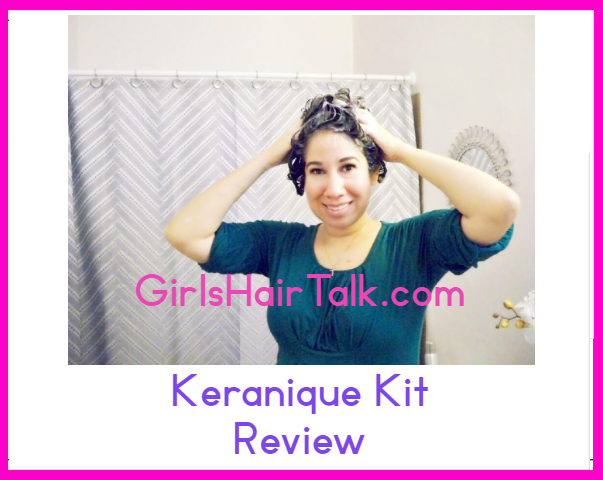 Applying the shampoo!
Directions say to leave the shampoo & conditioner on for 2 to 3 minutes but I left them both on for 5 minutes each. 
It was a very cool and refreshing feeling on the scalp, just like a peppermint patty sensation if you have ever eaten one! That is a great feeling on a hot summer's day or even on a warm spring day but on a cold winter's day, I suggest having the heater on low at least, to help with this cool refreshing feeling on your scalp.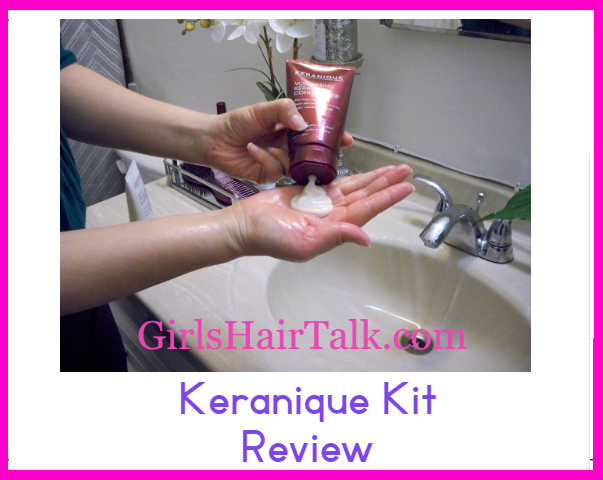 Conditioner is a creamy off-white color.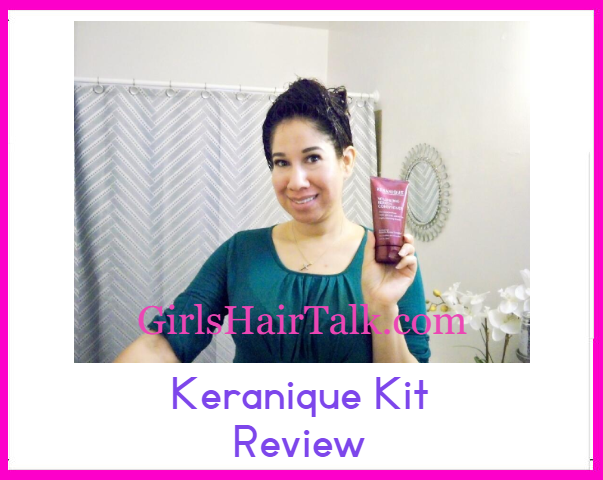 Letting the conditioner set for 5 min.
After using the shampoo & conditioner, I used the paddle brush that came Free inside of the kit. The brush is a good quality paddle brush and helped me get tangle free hair, love that!
The free comb is also great quality but I only ended up using the brush it was very helpful during the applications. 
Step #2 Regrowth Treatment : Keranique Review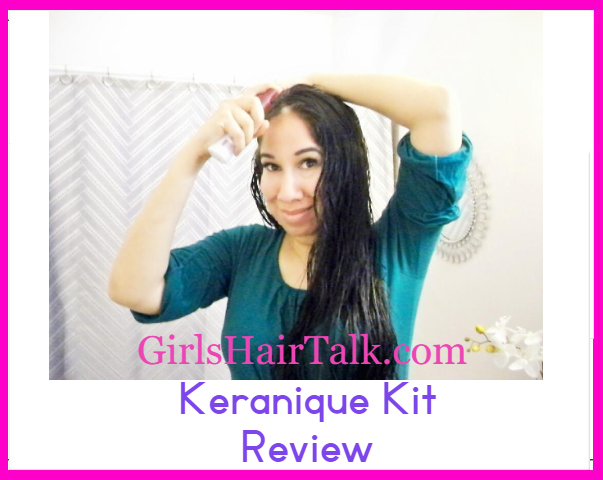 Applying the Keranique follicle boosting serum spray on scalp only, it is very easy to apply.
For Step two: It's time to use the scalp treatment spray for growth. I used the growth treatment follicle boosting serum on my scalp. Make sure to read the instructions, this is the only step you don't apply on the hair, only on the scalp. 
Keranique has two kits.
The only difference between both kits is the spray treatments in step 2 but everything else is the exact same in both kits. 

One kit is for early stages of thinning hair loss to get volume and the other kit is for late stages of hair loss to regrow hair from having bald spots:

So the scalp treatment was also refreshing, the same feeling I had when using the shampoo and conditioner. I was getting used to the products by step #2.
I wouldn't exactly call it a tingle feeling but more of a feeling such as when you brush your teeth which is a cool, refreshing, and an invigorating sensation. 

I'm starting to love this product kit at this point and the excitement is starting to kick in about my hair getting thicker from using this kit.
Step #3 Protect & Style: Keranique Review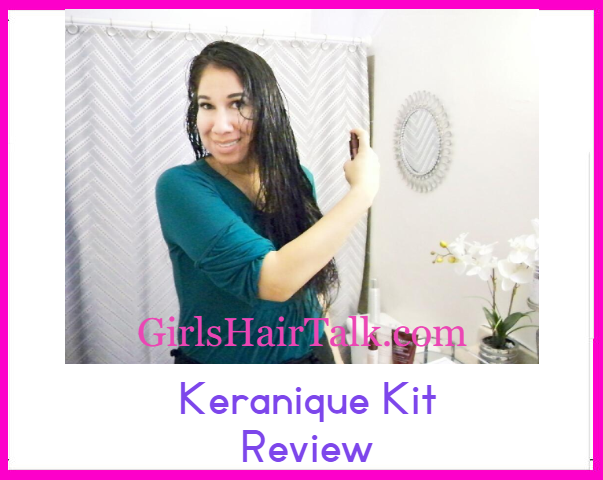 Spraying in the lift and repair treatment, it is very easy to apply!
This is the last step in the kit.
The lift and repair treatment spray is great because of the frizz control and heat protecting elements, which is what I needed as well.
The keranique kit's products work nicely together and compliment each other very well. This part of the kit is a great bonus that I feel makes the kit go the extra mile in caring for our hair growth. 
The lift and repair treatment helped me get rid of split ends which helps to avoid trimming the hair as often, so your hair can get the length you want at a faster amount of time! I love that so much!
My Thoughts Plus Questions and Answers : Keranique Review
After my hair dried, I styled it using a 1"1/2" curling iron. I did not use any other products on my hair other than what I explained I used in the keranique kit.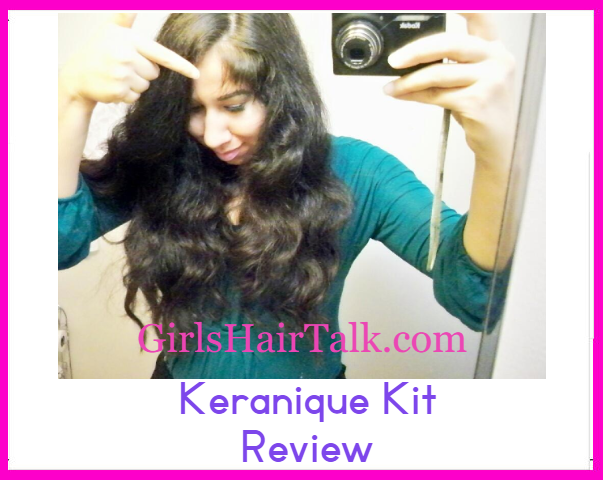 | | |
| --- | --- |
| My dry hair had the scent of nice clean soap with a hint of soft peppermint, but the scent was very faint. You would have to put your nose on my hair to smell it and it was not a strong scent on my dry hair which I liked. | |
Q&A:
Question: Is it safe for color treated hair? Answer: Yes, it is safe for color treated and chemically treated hair. 


Question: When should I see results? Answer: Sometime within the money back guarantee of 120 days. Hair takes time to grow like a plant it will not be over night but it's working. 
Question: How often should I use the products? Answer: The shampoo and conditioner can be used as needed but no more than every other day. The keranique regrowth spray should be used twice a day with 4 - 6 sprays on the scalp only where needed each time. The lift and repair can be used as desired, I use it only after I use the shampoo and conditioner.  
Question: Is it for all hair types? Answer: Yes, it is safe for all hair types. 
Finished Results! 
My hair is naturally coarse, dry and stiff but not after using the keranique kit! My hair came out bouncy, silky, with my split ends gone!
As a professional hair stylist I have used the best of the best products in the past and those didn't really work for my hair. I am so happy I tried this kit for myself. I am of mixed decent and I am really happy that these products worked for me. This kit is a winner!!! I 100% recommend keranique to regrow hair!
Where To Buy Keranique
| | |
| --- | --- |
| Thank you. | You can buy the keranique kit at Ulta or Sephora but if you buy it through This link Keranique.com you will be helping me to continue to empower women to fight hair loss through this website and encourage the community of female hair loss women!  Thank you for your support! |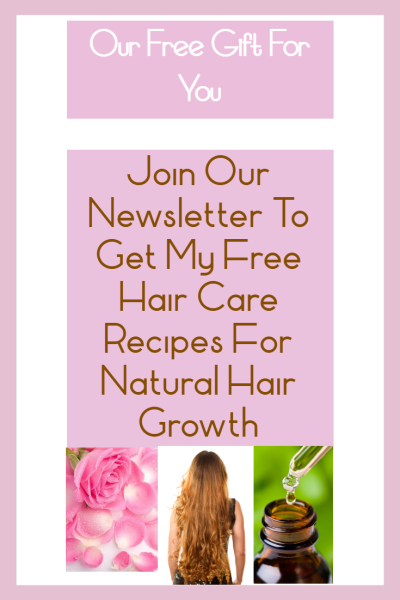 Thank you!


Home > Keranique Review
Return to the top of this page