Hair Toppers For Women Tips To Make Hair Pieces Look Natural 
Free Giveaway Beauty
Gift Set Prize!

What Is A Hair Topper?
Bottom of hair piece.

Top of hair piece.

Hair toppers are actually half wigs made special for women to hide their hair loss and to add volume to the hair. 

They are also known as wiglets as well because they look like mini versions of regular sized wigs. 

They are worn on the top of the head and are lightweight.




How Are Wigs Different Than A Hair Topper?

Wigs cover the whole head while a hair topper is only placed on the top of the head, sort of like a toupee is for men, yet this is made special for a women.

They are light weight and look more natural than a wig because the hair topper blends in naturally with your own hair. 



Does A Hair Topper Make Women's Hair Loss Worse?
Actually no, a hair topper doesn't make hair loss worse, but wigs can make hair loss in women worse. Wearing a tight wig daily can cause scalp blood circulation problems which can prolong hair loss in women.

While Hair Toppers allow blood circulation to freely move throughout the scalp which is important in getting proper hair growth.
So a hair topper is better to use than a wig when dealing with hair loss or thinning hair.
How Do You Wear A Hair Topper?
Hair toppers are very easy to use. You simple clip it onto the top of your hair.
So yes you need at least thin hair to have something to clip it in but since they are made for thin hair it doesn't take much to secure them in your hair.
They blend in with the rest of your natural hair. This is why they look 100% more natural than wigs.
What Types Of Hair Toppers Are There?
Hair toppers come in an array of sizes, lengths, and thicknesses.
Hair toppers also come in different types of hair types such as:
Hair toppers usually come in natural looking colors. If your wanted an outrageous or unusual hair topper color such as purple or bright red ect. you would have to dye it yourself or have a professional do it for you but this service is hard to find.
The reason these types of hair topper colors are hard to find is because hair toppers are made to look and appear as natural looking as possible and blend in with the hair that you already have. 
But beware of bleaching the hair topper as doing so can destroy the hair topper. If you want an unusual hair color its best to get a blonde one and dye it the color you want. 


How To Choose The Right Color Hair Topper?
The #1 way to choose a hair topper that looks the best is to choose the one that best matches your hair color.
This is because the topper is meant to blend in with your natural hair to give it more natural volume and thickness. 
So if you color your hair, choose the hair topper that best matches your hair after you color it. If you don't color your hair, choose the hair topper that best matches your natural hair color.
Either way this will give you a very natural style and look to hide hair loss instantly.
How To Choose The Right Size Hair Topper?
When choosing your hair topper you want to use a measuring tape and measure your hair loss from front to back and side to side, then add an extra inch to both measurements. That will determine what size hair topper base to get when choosing your hair topper.
Here is an example of what we recommend based on how much hair loss you have.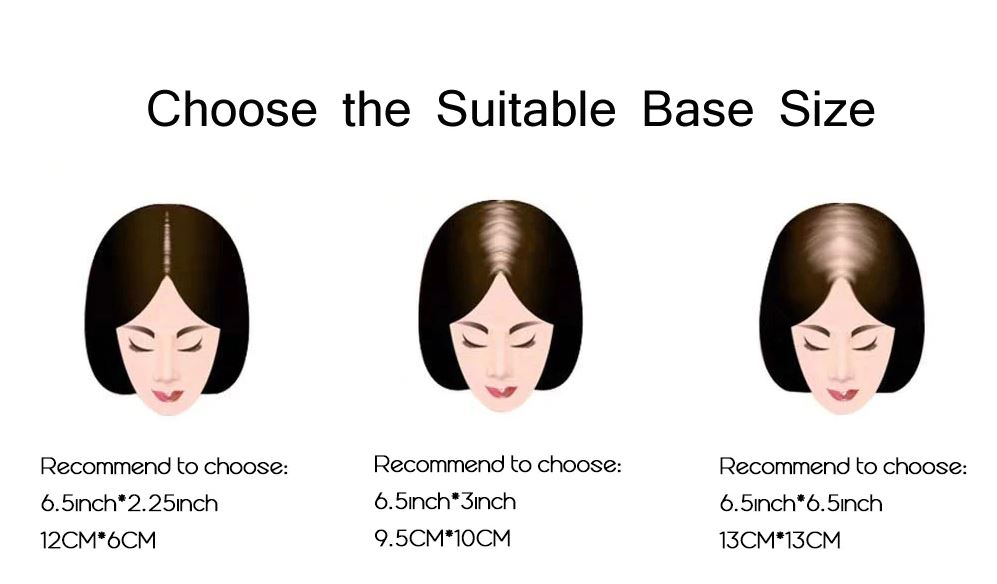 (Our Hair Topper Base Size Chart)
Choose The Length Size Of The Hair Topper You Want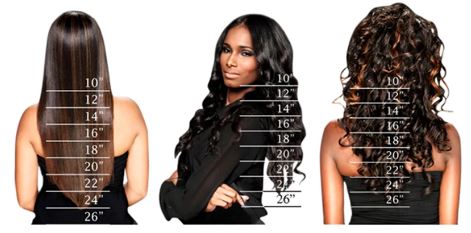 Our Hair Topper Length Chart
How To Wash And Care For Hair Toppers?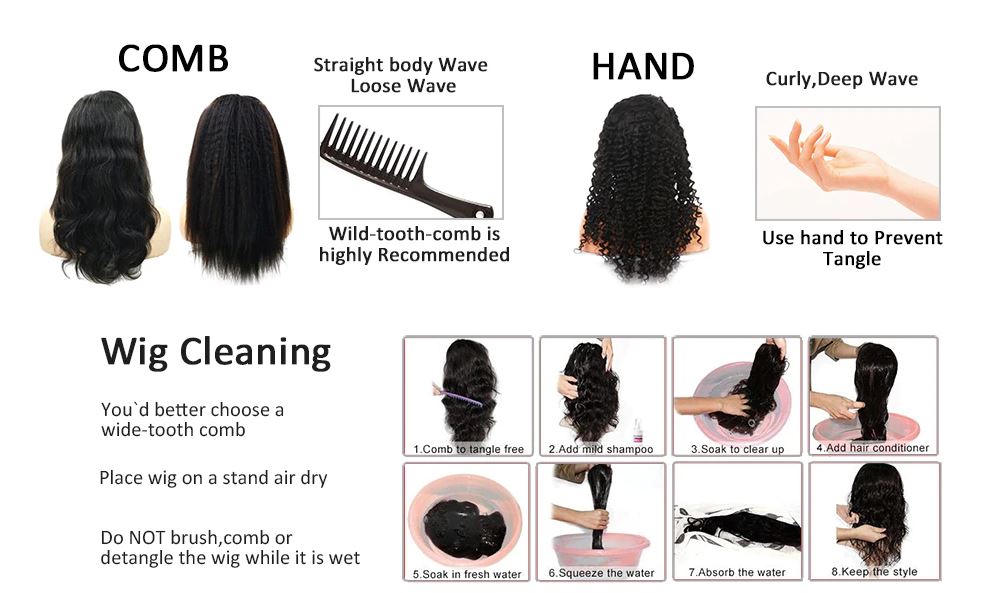 Be extremely gentle when washing and styling your topper to keep it as long as possible. 

Steps include:
comb gently
soak in luke warm water
add mild shampoo
rinse off shampoo
add mild conditioner
rinse off conditioner
gently squeeze hair piece and pat dry with fluffy towel
let dry fully on mannequin head 
Washing your hair topper about once a month is enough times because your hair topper is not producing natural oils like the hair on your head so washing it less is more.
How To Style My Hair Toppers?
If you have a synthetic hair piece topper make sure you do not use heat on your hair topper or you could ruin it.
100% human hair toppers and synthetic are different because 100% human hair toppers are heat safe and look more natural than synthetic hair pieces because they are made from real human hair.
When the hair topper is dry you can style the 100% human hair topper as you would normal hair while it's pinned on the styrofoam mannequin head. Just make complete sure to be gentle.
How Long Do Hair Toppers Last?
Hair toppers can last up to 1 to 2 years if used daily or for a few years longer if used less often and not daily.
If you use it sparingly keep it flat in an air tight container in a cool dry place away from sunlight in order to preserve it as long as possible. Storing your topper like this can also help avoid dust.
If you use it every day make sure to store it on top of a mannequin head for easy access, doing so helps to keep the base of the hair topper from being distorted. Then cover to avoid dust as well. 
Doing these easy tips and tricks will help preserve the hair topper for as long as possible.
How Much Do Hair Toppers Cost?
Usually the smaller the base and shorter in length the less expensive it is. Also you should know that fake synthetic hair toppers are less expensive while 100% human hair ones are a little pricier.
My Top Product Picks: To Get Instant Volume Today! 
As a professional hairstylist, I was extremely skeptical of a shampoo claiming it helped with volume without making your hair look like a dry, tangled mess! I have been there, done that and it's not fun at all. 
What I am most impressed about with this product is with most shampoos you have to change shampoos very often because your hair can become immune to the properties, causing an opposite reaction making hair become too limp. But this shampoo is different because you can use for long term use and always have a nice bounce to your hair!
Which is great because 
in the latest hair loss news:  according to dermatologists, switching shampoos too often can be bad for your hair, it can even start to cause skin conditions such as scalp dermatitis or seborrheic dermatitis, which in some cases can result in hair loss.
This shampoo cleanses, moisturizes and makes your hair bouncy with instant 24 hour volume!! 
The cons are unfortunately you can't find these in salons or in stores, although you can order this shampoo online and read reviews by clicking here...
Oh and don't forget to pick up the matching voluminous spray for in-between wash days, Read reviews or buy the volume spray by clicking here...
Leave A Question Or Comment
So I Can Help
Answer Your Concerns 
Monthly
Women's Hair Loss Tips
Newsletter!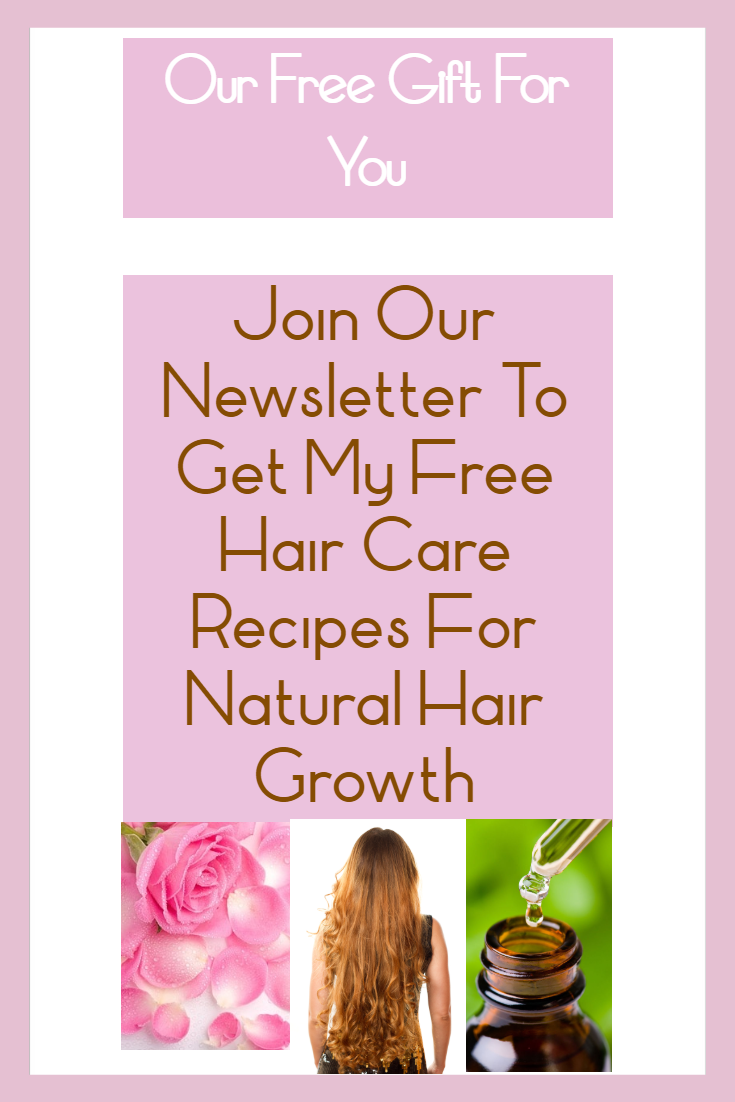 Click here to see previous newsletters sent to our group of gals!...
Welcome to my hair care family!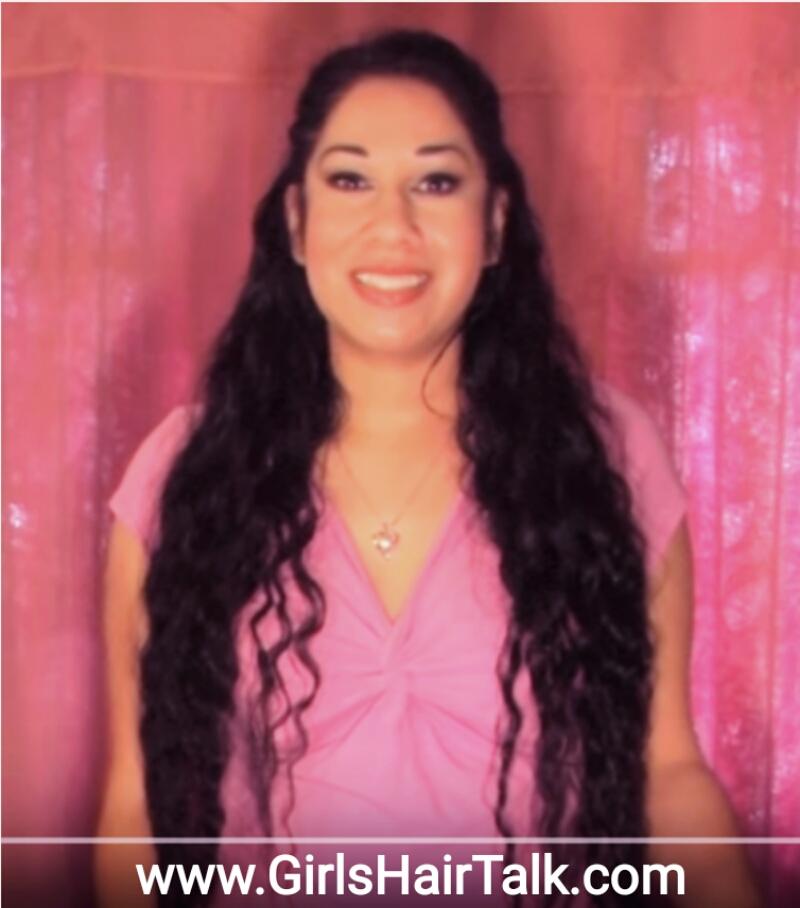 Hello beautiful! I'm Margarita, the author and owner of this site. I'm also a licensed Cosmetologist since 2003. I specialize in women's hair loss care. I am writing this site for you with knowledge and love! Click here to read more about me...


Home > Wigs > Hair toppers
Back to top of page