How To Treat Psoriasis  Hair Loss 
The good news is that your hair will grow back to it's normal state of fuller hair growth once the psoriasis is corrected. 
When treating your scalp psoriasis it's important to be patient and relaxed as your situation may be upsetting but Psoriasis can be completely better with a little time and patience.
Using the right products below with great hair loss vitamins can help to treat your scalp psoriasis, then your itchy scalp will return to it's normal state and give you healthy hair growth as quickly as possible. 
When picking and choosing the right shampoo for your shampoo regimen, the best ingredients to look for in your psoriasis treatment shampoo should have one or all of the following ingredients:
Tar

Zinc pyrithione

selenium sulfide

salicylic acid 
Topical Treatment To Treat Scalp Psoriasis
A good topical treatment for scalp psoriasis is called topical vitamin D analogues calcipotriol scalp solution. This on-the-scalp psoriasis treatment can be used alone or along with other topical psoriasis scalp treatments. 
What is vitamin D analogues? Vitamin D is divided into 5 analogues the two most common ones are vitamin D2 and vitamin D3. 
Best Treatment For Scalp Psoriasis Hair Loss
This medicated psoriasis ointment is the best treatment for helping psoriasis, which in turn helps restore female hair loss due to the psoriasis being cleared as mentioned earlier. 
| | |
| --- | --- |
| Before using psoriasis ointment hair loss treatment. | After using psoriasis ointment hair loss treatment. |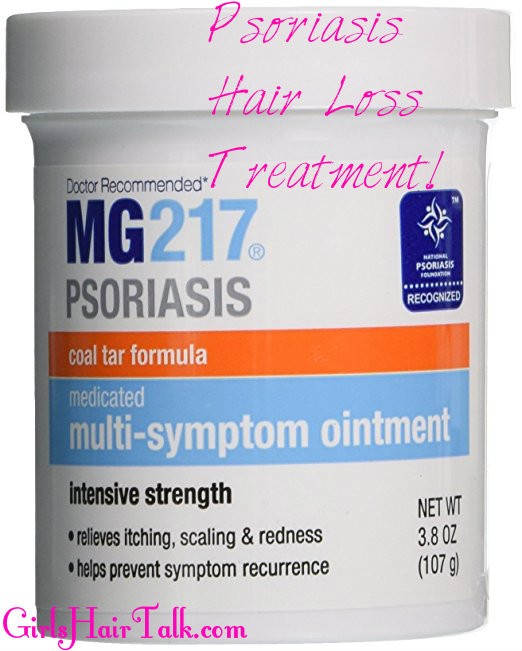 This women has been diagnosed with psoriasis for over 20 years and she uses this medication daily following the directions on the package of 3 to 4 times a day. The results in the pictures are within a couple of weeks of use!