The lasers used for medical purposes are either high powered and or low powered. The high powered laser lights will, simply put, help a person get rid of hair follicles from growing back. This is used for unwanted hair. They also help get rid of wrinkles on the face and body. You should also be aware that the high powered laser does give off heat. 
As for the low level lasers used for medical purposes, they don't give off heat at all. Low level lasers help to rejuvenate and heal your body's tissue. 
This technology has actually been around alot longer than you may know, since the 1960's. So laser therapy is not a fad. Low level laser treatment helps with healing inflammation, healing wounds and healing chronic pain. 
When using the low level red light therapy for hair loss our skin absorbs the laser light which in turn stimulates hair growth where there wasn't before the red light laser treatment. The reason hair growth is produced is due to the increased blood flow to the area right where the laser therapy is being placed. Therefore the hair is strengthened, regrowth happens and will actually grow out even thicker than before. 
Best Laser Hair Growth Device:
Are These Hair Growth Devices Safe?
Firstly, I want to examine the safety of these devices. How do we know these devices are safe? I mean we're using lasers like in Star Wars, right?

Well not quite, the lasers used are low-light lasers similar to LED lights, except the laser's concentration is more focused and precise.

There's zero scientific evidence to support any suggestion these devices are harmful.
In actual fact, a cursory look at the history of how this technology came to be should debunk any fear-mongering you may have encountered while scouring the internet.
The History Of Red Light Laser Therapy For Hair Loss

Best Laser Hair Growth Device: Are They FDA Approved?
In 1967 a Hungarian physician by the name of Dr. Endre Mester attempted to determine the carcinogenic potential of low-level lasers on mice.
But rather than proving his hypothesis, he discovered the lasers had the effect of stimulating hair growth on the back of the lab mice used, and so the potential for using Low Light Laser Therapy (LLLT) as a viable hair loss prevention and regrowth treatment was born.
Since then, there have been multiple studies done on the safety and efficacy of LLLT, and all the products featured in this review have been fully FDA approved.
Does Red Light Laser Treatment For Hair Loss Really Work?
And When Do You See Results From The Best Laser Hair Growth Device For Hair Loss?
The short answer is yes they do work and for the vast majority of people these devices show a considerable difference after 6 to 12 months of continual use, but a noticeable change may be evident in as little as 3 months.
The diodes in these devices use a particular wavelength to penetrate the scalp, increasing the flow of blood to the targeted areas and reinvigorating the hair follicles, often producing thicker, stronger, and healthier hair strands than before.
How Much Does The Red Light Laser Treatment For Hair Loss Cost?
This depends on whether you go to a clinic or use an at home device. Here are the pros and cons of each to help you better decide.   
Low Level Red Light Laser Treatment

Pros and Cons

(AT The Clinic) 
Laser Clinic

Pros


The lasers are stronger.
you get a precise amount of laser delivered each time.
Results might be better monitored by a professional doctor.
It is less stressful because you let the doctor monitor you instead of you timing yourself. 

Laser Clinic

Cons

You have to get ready and leave home each and every time scheduled.
You have to go to the doctors office multiple times per month - at least 3 times per week.
It's so much more expensive than doing it yourself. A clinic can cost up to a few thousand dollars for just 3 visits per week. (It can take months to start seeing results.)
---
Best Laser Hair Growth Device

Pros and Cons 

(To Use At Home)
Best Laser Hair Growth
Device

Cons

You might forget to do the treatments yourself unless you post it on your calendar.
You may feel discouraged and want to stop trying when you don't see results over night. It takes weeks or up to 4 months to monitor and see results.

Best Laser Hair Growth Device
Device

Pros

It's so much cheaper and more affordable than spending thousands at the doctors clinic per week. 
It's much more convenient because you can do the treatments while you watch tv or relax in the comfort of your own home.
 You have a 100% money back guarantee! Try asking for your money back at the doctors office laser clinic.
You have 100% privacy because it's at your own home.
Painless
Cap, Comb, or Headband. That is the question?
Combs tend to be much cheaper and have the added benefit of being able to target any area of the head, but with that, you get the trade-off of having a much smaller surface area, and therefore far fewer diodes.
The onus is then on you to distribute the comb evenly where necessary. In saying that, Hairclub's Ultima 12 Laser Comb takes roughly 8 minutes a day, and is recommended to be used 3 times per week.
This red light laser device has a 95% success rate, and in studies averaged a total of 129 additional hairs per square inch of the scalp.
It's a battle of the bands between Hairclub and HairMax, laser bands that is. Both brands offer the 41 and 82 diode models and treatments are from 90-180 seconds, 3 times a week respectively.
The rule of thumb if you'd not already guessed, is the more diodes, the less treatment time, and the quicker and more effective and successful it will be.
Leading the pack in laser caps are Capillus, with a range to suit all budgets, and at 24 inches, most head sizes too:
the CapillusUltra, CapillusPlus, CapillusPro, and CapillusRX normally retail between $1000 - $3500).
Hairclub has yet again thrown its literal 22" cap in the ring, with the budget-priced EXT Hair Regrowth Laser Cap.
It features 81 diode lasers and is to be used 30 minutes a day, 3 times a week. HairMax's foray into Laser Caps gives us the Flip80, so called because it covers 50% of the scalp and you need to flip it, to treat the other half, but has the convenience of being entirely cordless.
So What Is The Best Laser Hair Growth Device? I've Narrowed It Down To My Top 3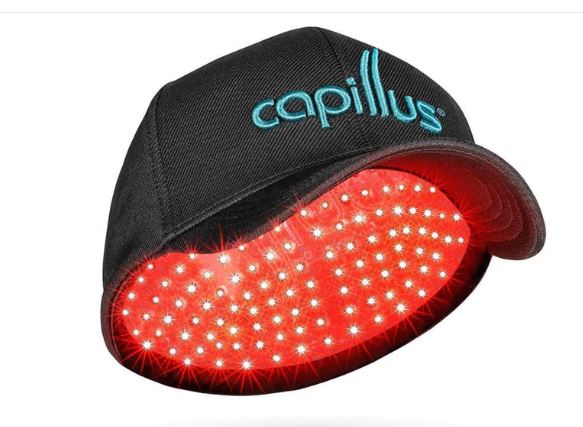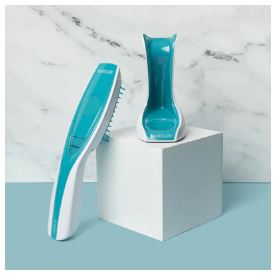 3. HairClub Ultima 12 Laser Comb
This little bad boy is rechargeable, cordless and lightweight. 
This is great for your travels on-the-go.
With 12 medical-grade lasers all you need is an 8 minute brush treatment time per day with this comb for thicker hair growth.
Brushing your hair and scalp for 8 minutes per day, isn't that just like Marcia Brady? :) 
The comb has a set of teeth that allows you to move it smoothly through your hair.
Other Useful Products And Tips
Hair Loss Growth Vitamins for Women >> 
Hair Loss Shampoos & Conditioners >>