Oops Is Britney Spears Going Bald Again?
Britney spears hair loss was a known fact and part of her famous past back when she shaved off her hair back in 2007.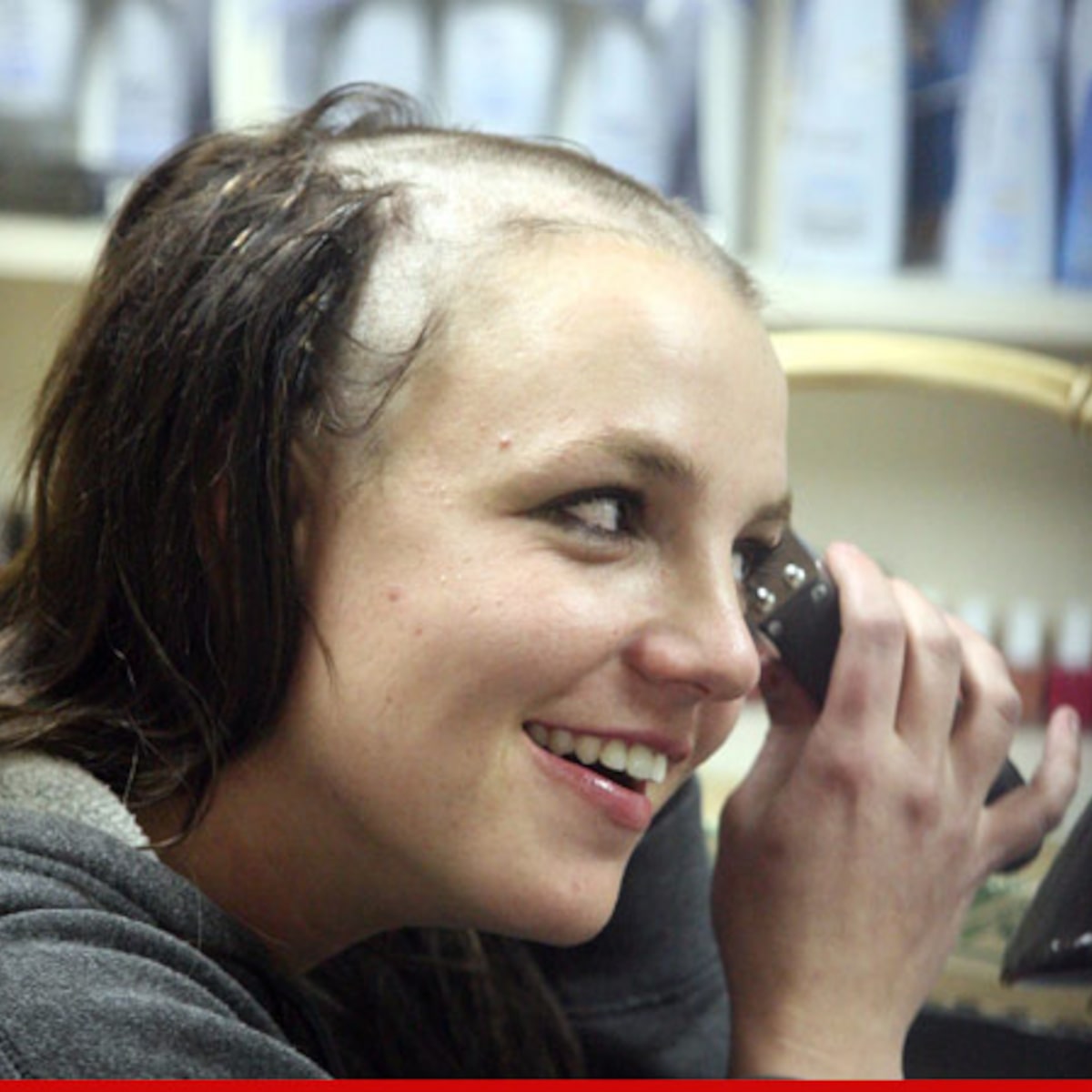 Britney shaving off her hair
 She is quoted as shaving her head for the following reason: "I was going through so much artificial stuff with my kids and Kevin at the time. He'd just left me and I was devastated," she told MTV in an interview for the 2008 documentary "For the Record." "People thought that it was me going crazy and stuff like that, but people shave their heads all the time. I was going through a lot, but it was just kind of like me going through a little bit of rebellion, or feeling free, or shedding stuff that had happened, you know?"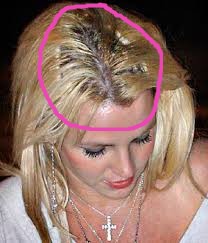 Britney wearing hair extensions to help hide thinning hair loss
Yet, today she may be losing her hair for an entirely different reason.
Britney spears hair loss is a serious concern for her and those around the talented singer. According to the Globe tabloid Britney spears hair loss is due to using too much hair color. An unnamed source claims if she does not stop wearing hair dye that Britney will go bald very soon. 
The source said that Britney spears hair is  "fried, tangled, and messy." She might have to wear a wig for the rest of her life if this behavior continues.
Britney was told to leave her hair alone and stick to only one hair color according to the secret source.
She needs to avoid going back and fourth with multiple hair colors. Doing drastic changes in her hair color from black to blonde will only lead to going bald due to the hair constantly being damaged over and over again resulting in severe balding breakage of the hair follicles. 
Other reports claim that Britney spears is not going bald such as Gossip Cop they are quoted as saying: "Hair beneath the scalp that has not yet emerged cannot be reached by hair dye and thus hair dye cannot fundamentally cause hair loss," the website explained. As such, the tabloid's claims are categorically incorrect.
How Should Britney Spears Hair Loss Be Treated?
If reports are true and she is going through severe hair breakage and hair loss this hair loss is temporary as long as her excessive severe hair coloring stops.
Going  back and fourth from black to blonde is guaranteed going to ruin your hair and cause severe hair breakage. 
Britney should treat her hair loss with dry hair treatments for hair growth and use hair growth shampoo and avoid heat in her hair such as blow dryers and other heating tools in her hair to avoid further damage. If she does this, it's only then that time will allow her hair to fully heal and she should regain a fully restored head of hair again.

Britney's Deleted Social Media Post About Britney Spears Hair Loss From Her Own Words!
Click Each Picture to Make Pictures Bigger! (Part 1)
(Part 2)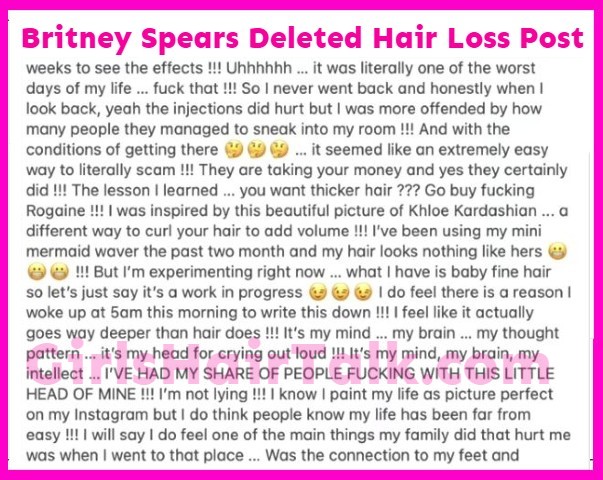 (Part 3)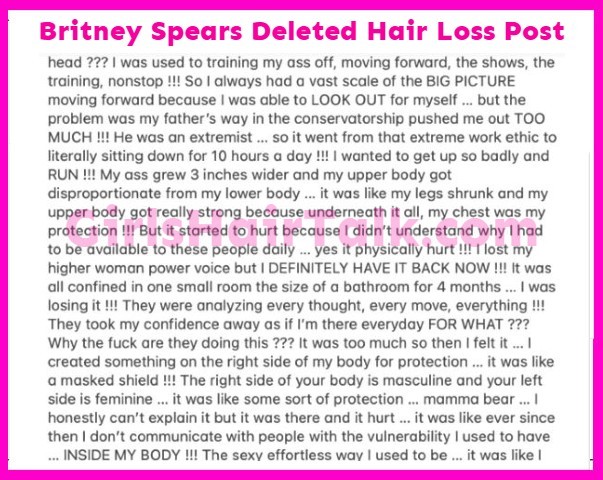 (Part 4)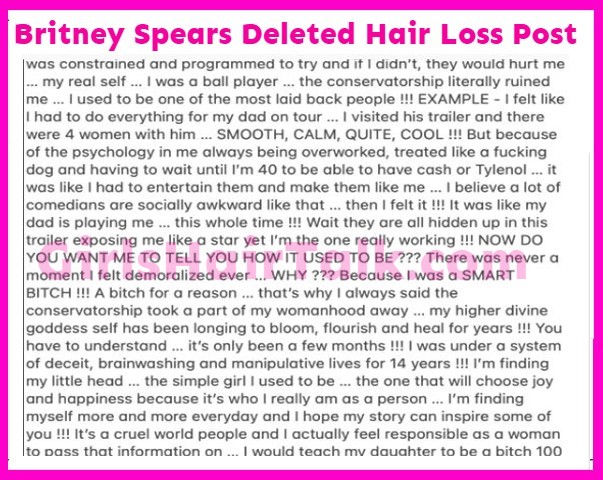 (Part 5)
(Part 6)