LeBron James Hair Loss : What Happened?
LeBron James bald issues have happened in front of the cameras with millions to see. 
LeBron James has been dealing with hair loss and his fans have noticed his bald spots around his hair line and behind the back of his head.
They also have noticed his hair reappear back again magically and wondered how he was able to grow his hair back so incredibly super fast?
Well it was revealed in one incident while he was playing in a game last year in 2019 of how he had regained hair so fast.  
In this video it was seen live that LeBron James Bald Spot was covered by a toupee'.
His toupee' fell out during the game and his team mate let him know about it, so LeBron could fix it.
So apparently he was wearing a toupee' to cover up his hair loss bald spots which is how he "appeared" to grow hair super fast.
With what he gets paid I'm sure it was a well made one too, it looks 100% real to me and to his fans too. 
Basketball is a rough game so I can see why it may have gotten loose during the game. 
With situations like this happened in front of millions of people to see, it's sadly no surprise that the trolls and haters come out to make fun of his situation of hair loss. 
LeBron James Bald Meme
While LeBron James can easily be upset at all of the jokes, memes and heckling that try and taunt him, he recently showed how he handles the situation with stride. 
Recently on an Instagram social media post, LeBron James saw a meme directed at his bald spots and shared it on his Instagram stories. 
The meme showed laughing emoji faces and text that read: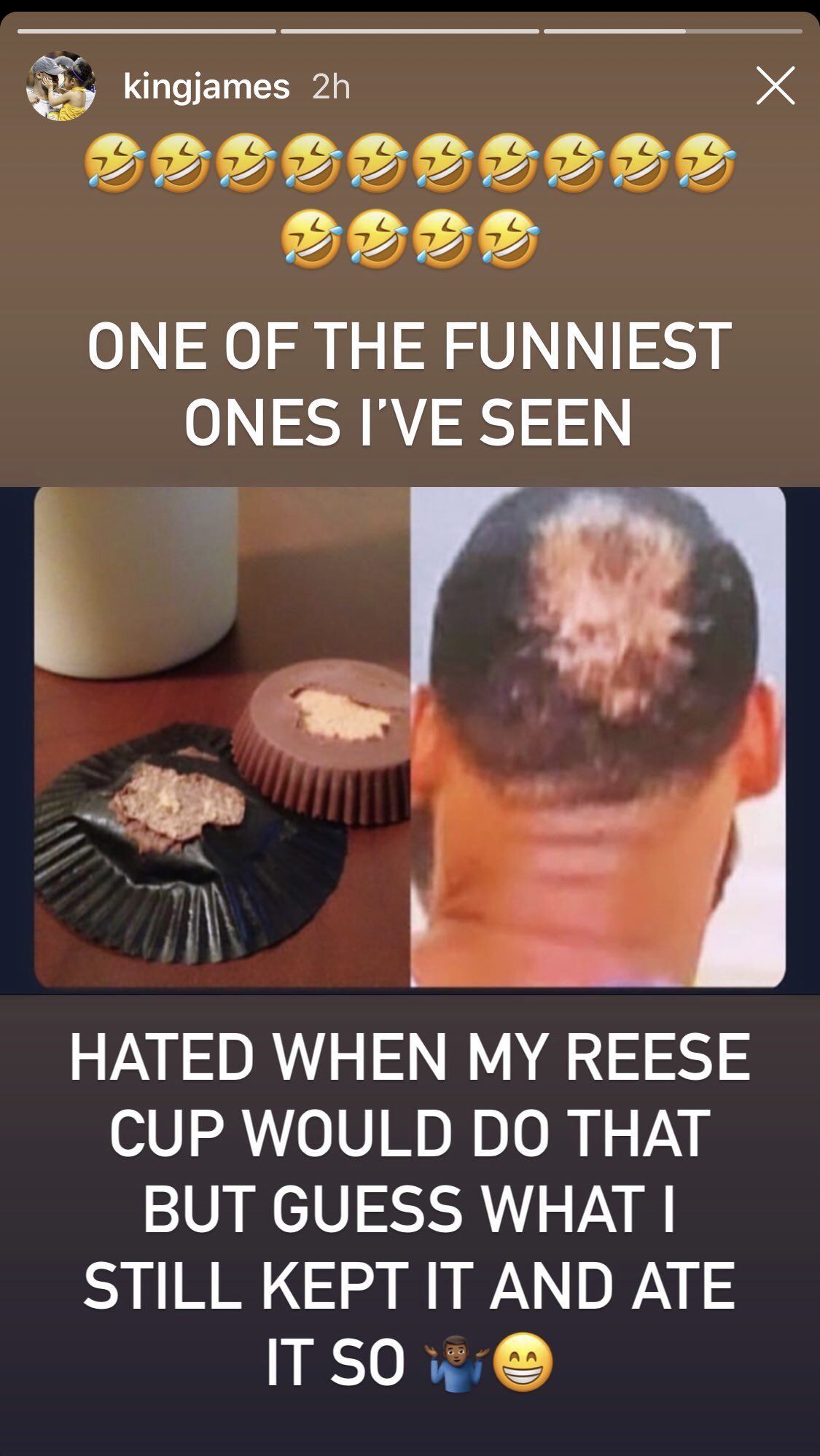 I understand everyone reacts differently to their hair loss but It's nice to see he still has a good sense of humor about it.
Laughter is the best medicine and stressing about it will not help, stress can actually add to the hair loss problem and make it appear worse off than it already is. 
Although others might not laugh so hard about the jokes surrounding their hair loss which is understandable.
LeBron James Hair Loss Tip!
I noticed that LeBron James was hiding his balding hair line underneath his basketball head band. Although I know this can be seen as a quick fix, it can do a ton of damage to further his hair loss issue.
The tightness of his head band can prolong his balding hair line due to the blood not circulating well enough to give his hair the proper blood flow for healthy hair growth. 
His head band should be a bit looser so that he dose not get any kind of traction alopecia.
Traction alopecia, which is caused by wearing a tight hat or head gear can actually cause hair loss and make things worse due to the improper blood flow.
So even though wearing a hat, head band or other covering can be an easy way to hide hair loss it is't worth it because it can just make things worse. 
Anyways it's good to know that all of this hair loss controversy has not stopped LeBron James from playing basketball as one of the best players in the world.
He shows attitude is everything.