Hair Loss After Pregnancy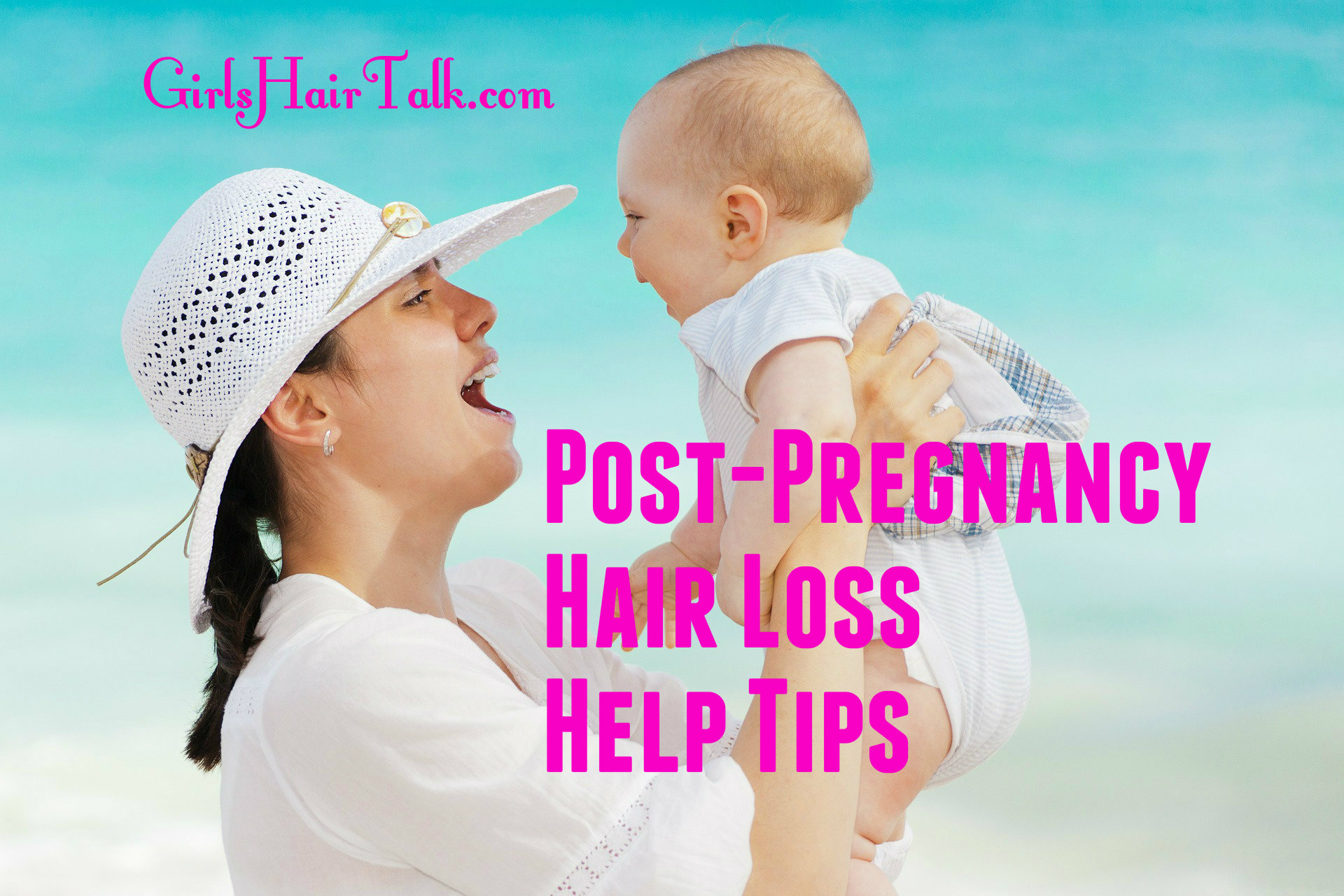 Is Postpartum Hair Loss Normal?
Yes hair loss after pregnancy is very normal. 95% of females are experiencing hair loss due to hormonal changes such as from pregnancy and menopause.
The statistics of hair loss after pregnancy effect 40% to 50% of women according to source american pregnancy.
Even people that start off with very thick hair growth can experience hair loss after they give birth to their baby. So don't worry and think that you are alone in this postpartum hair loss issue, in fact you are even more normal to experience this than not to.
Is Hair Loss After Pregnancy Temporary? 
Yes! The good news is yes, hair loss after pregnancy is very temporary. You should only experience your postpartum hair loss for about a year and a few months after your baby is born. So rest assured it will not last forever. So please don't stress out about what you are going through because that may just help to elongate the hair loss even further.  
What Causes Hair Loss After Pregnancy?
When you are pregnant, the production of estrogen is increased, which prolongs the anagen phase in the hair growth cycle. Because of the extra long hair growth phase during pregnancy, many women experience longer, thicker hair growth during that time.

Longer, thicker hair growth is definitely great news except after the baby is born the women's estrogen hormone levels drop.
The drop in estrogen levels will cause the hair to go into the telogen phase of the hair growth cycle.
The telogen hair growth phase is when the hair follicle sheds and falls out.

The telogen hair growth phase will last up to 3 to 4 months. 
Postpartum women may experience a prolonged level of this phase in their hair due to all of the hormonal changes being made by your body contributing to their female hair loss and hair thinning.    
This is what causes female hair loss after pregnancy.
A Normal Hair Growth Cycle   
There are 3 stages of hair growth, the Anagen stage, the Catagen stage and the Telogen stage. Each stage does something different to help hair grow. 
Stage 1: The Anagen stage - The anagen phase is when the hair follicles are actually growing. This stage lasts about 3 to 5 years long.
Stage 2: The Catagen stage - The hair growth process actually stops growing temporarily and rests at this point during the catagen phase of hair growth. This stage of phase lasts about 1 to 2 weeks.
Stage 3: The Telogen stage - This phase is the one nobody hardly enjoys it's called the telogen hair growth phase, it's this hair growth phase when the hair follicle sheds and falls out. The telogen hair growth phase lasts about 3 to 4 months. Postpartum women may experience a prolonged level of this phase in their hair, contributing to their female hair loss and hair thinning.    
The good news is the hair will go back to being stage 1 again, which is the anagen hair growth phase and your hair will start to grow back again once the cycle is complete.
Hair Loss After Pregnancy Hair Growth Rate
It will definitely take time to see your normal hair thickness fully return. Your female pattern hair loss will start to grow back to it's normal hair growth cycle after the telogen phase is completed. 
Hair Grows at a rate of 1/2 inch per month so it may take more than a year to see your pre-pregnancy head of hair fully restored.
The average hair growth rate can increase with natural hair growth vitamin supplements.  
Keeping your hair away from heat in your hair care morning routine can also help give you stronger and healthier hair growth.
How To Treat Hair Loss After Pregnancy ?
Because hormone levels discussed on this page is the cause for your hair loss then balancing your female hormones will help you see normal hair growth stages sooner than later. There are ways that you can help regulate your hormones and vitamin levels that are causing this to happen.
Here is what I can suggest below: 
My first pick for thicker, fuller, healthier hair goes to Viviscal's  female hair loss kit.

 In my research I found that the best results goes to Viviscal hair loss products. Their kit works better than any other female hair loss kits on the market. 

Their vitamin supplements are 100% DRUG-FREE 

"I am real picky about what products I use in my hair because I don't want unnatural ingredients that are bad for my hair, but I trust this company because they use ingredients like essential oils in their shampoo/conditioner. I love that to get fuller, thicker healthier hair. " margarite - GirlsHairTalk.com

Click here for more info on the Viviscal Hair Loss Kit. 






It would be best to get the viviscal hair kit above because it really is a safe and easy way to help get the best vitamins for faster hair growth. It would also be cheaper because all of the vitamin supplements that are great for your hair are in one capsule in their kit and therefore is cheaper than buying each vitamin bottle separately. I have a page all about how to get the cheapest coupon codes for these hair loss products and or kit if interested!  
I also want to recommend this tea to help you regulate your hormone levels. This is what the tea say in the back of the box:
"Our woman's raspberry leaf tea is a gentle and organic blend purposefully formulated to support the female system. Since ancient times, raspberry leaf has been traditionally used by midwives and western herbalists during pregnancy as well as to help ease the discomfort of menstruation, and to support the uterus. Enjoy the pleasant, earth-sweet flavor of our organic woman's raspberry leaf tea for comfort at all stages of life."     
This tea can even be used during pregnancy but I would avoid drinking this tea during the early stages of pregnancy just to be on the safe side but after 3 months of pregnancy would be great. This will help regulate your female hormone levels at all stages of life!  My quick tip is: I personally enjoy a cup at the end of the day because you feel so relaxed it just puts you right to sleep, enjoy!
Article Sources: American Academy of Dermatology 
Home > Hair Loss After Pregnancy
Back to the top of Hair Loss Pregnancy