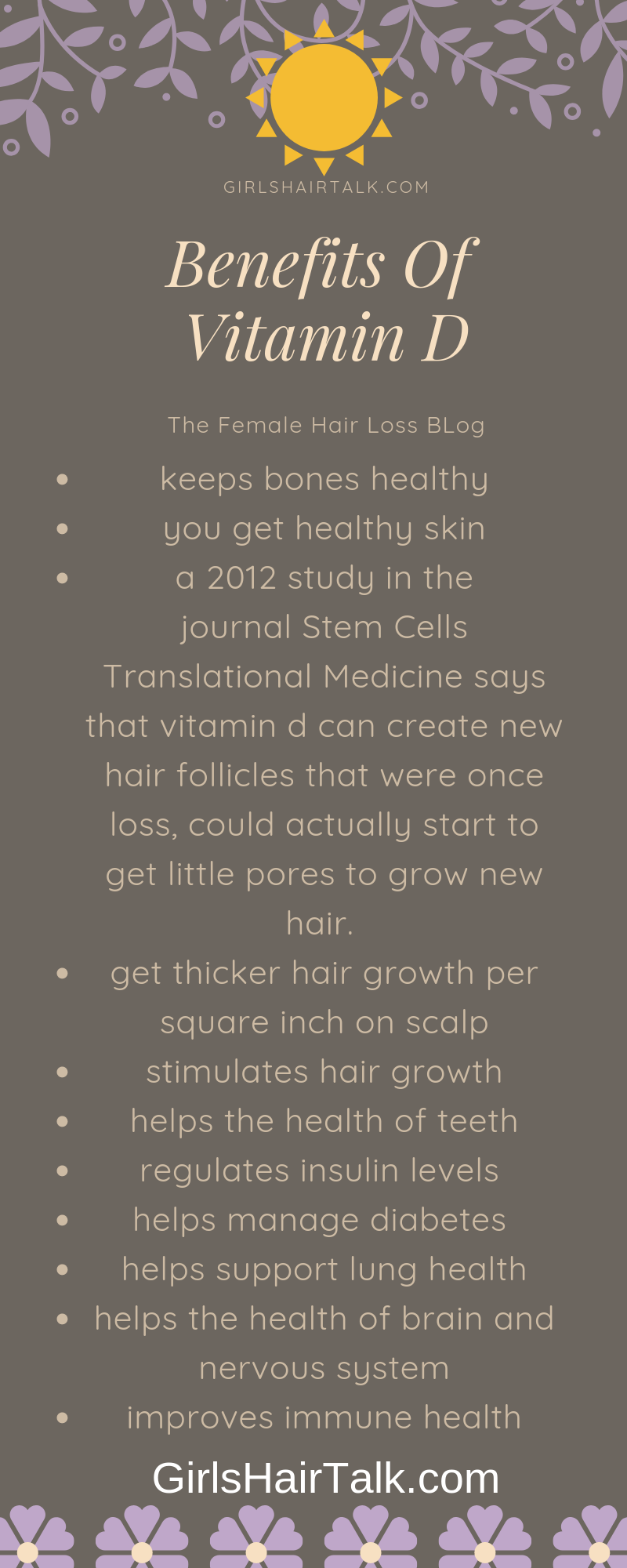 What Is Vitamin D
To help you understand more about how vitamin d and hair loss are connected lets take a look at what vitamin D is. 
Vitamin D is actually a pro-hormone and not technically a vitamin even though that is the name we give it. 
Because female hair loss is commonly caused by a hormone imbalance due to situations that occur in our lives because of the following list:
This hormone vitamin can help balance women's hormones which in turn will help stop hair loss and create hair growth. Please don't take more than what your doctor recommends, seek your physicians advice. 
Sources Of Vitamin D
Our body does not naturally create vitamin d so we must get it from outside sources such as the following methods:
Food:
salmon

grains

orange juice 

milk

mushrooms
Supplements such as:
Sunshine but please don't over due this. A study found that 30 minutes of midday summer sun exposure in Norway was the same equivalent to consuming 10,000–20,000 IU of vitamin D.
Remember taking too much vitamin d can lead to fatigue due to having too much calcium in your blood. This can lead to kidney problems, so please know that less is more! Please take whats recommended by your doctor.
Just for reference I wanted to share this quick story with you, my readers.
I was cutting my dad's hair and I noticed his hair was thinning and I asked him, "have you been taking your vitamins?" He replied "no."
Next time I cut his hair (which was about one month or two later) I noticed his hair was thicker. So I said to him, "Dad, you have been taking your vitamins haven't you!" he said "yes, how did you know!"  Because his hair was alot thicker than before.
So here is his list of vitamins and how often he takes them.
vitamin D3: once or twice a week
vitamin C: once a day
vitamin B12: every day
vitamin B complex: once a week
I noticed he is inconsistent with taking them which is probably best
This works best for him, your cause of hair loss may not even be vitamin deficiency 
Please ask your doctor how much IU's if needed you should take because it depends on where you live too. We get alot of sun here in California.