Afro Hair Extensions Clip In Styles For Sale & Easy Care Tips!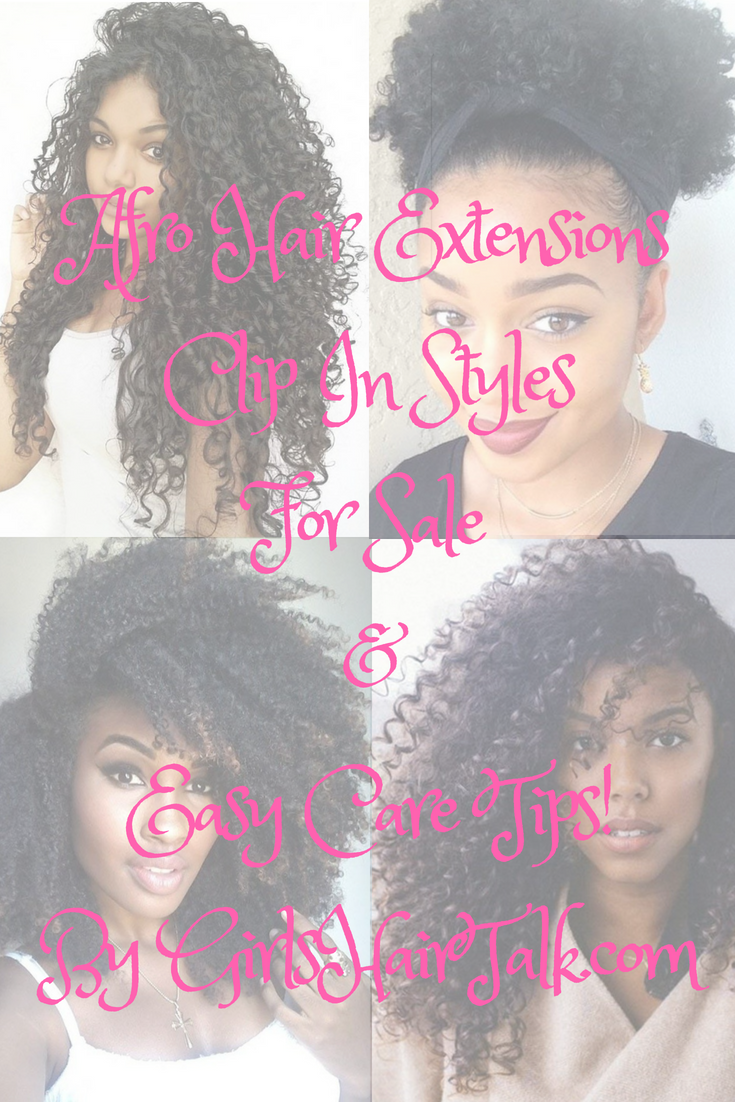 How To Care For Your Afro Hair Estensions
Afro hair extensions are great to wear because of their natural looking beautiful texture!
What better time to showcase kinky, curly, afro hair than now.
Getting afro hair extensions are a great way to create thicker looking hair and hairstyles and helps hide thinning hair loss while it grows out. 
Natural hair has always been in style but it is so great that it is trending even more today than it was twenty years ago! I am so happy textured styles are back in style, aren't you?
When choosing afro hair extensions, you just can't go wrong with a kinky curly hair weave. The hair style will naturally blend in with the natural texture of your hair effortlessly.
They also work great when using a protective hairstyle to maintain a heat less hairstyle. Afro kinky curly hair extensions are great for any age women!
Maintaining a kinky curly hair style when using your hair extensions is extremely important when you want to keep your hair style looking beautiful for a longer period of time, easily.
If your hair weave is losing it's curl pattern, I have a few hair afro hair extension tips that you could do at home to help maintain it's style for longer. Here are some easy step by step tips to maintain your weave and bring it back to beautiful life!
Afro Kinky Curly 4B 4C Clip In Hair Extensions Brazilian Remy Virgin Hair Natural Color 120Gram 7Pcs/Set 16", Afro Kinky Curly
Buy This Hair By Clicking Here!
---
18inch Curly Clip In Human Hair Extensions 3B 3C Mongolian Virgin Hair Afro Kinky Curly Clip in Hair Extensions Natural 4B 4C Kinky Curly Clip Ins 7Pcs/lot 120Gram/Set
Buy This Hair By Clicking Here!
---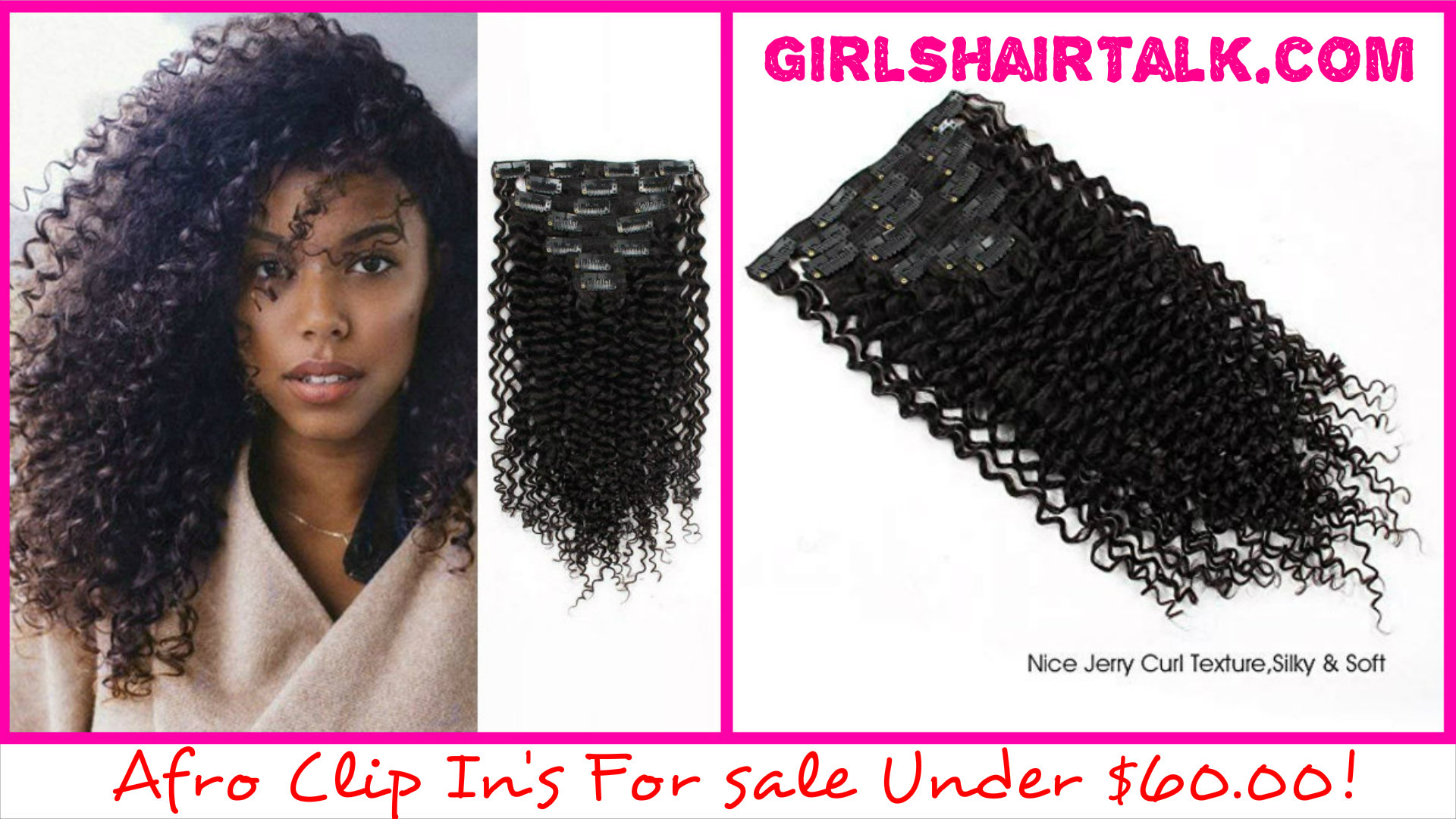 8A Grade Curly Hair Clip On Extension 3B 3C Afro Jerry Curl Thick 100% Remy Hair Natural Black 10-22 inches, 7 Pieces with 18 Clips 120g/4.2oz per Set Fit For Full Head 12 inch
Buy This Hair By Clicking Here!

---
Beauty Synthetic Curly Hair Ponytail African American Short Afro Kinky Curly Wrap Synthetic Drawstring Puff Ponytail Hair Extensions Wig with Clips!!!
Buy This Hair By Clicking Here!

---
How To Detangle Afro Hair Extensions
Make sure to gently detangle your hair extensions on dry hair using a wide tooth comb section by section.
If you brush your hair extensions when hair is wet that can cause the hair to stretch snap and break. So please make sure hair is dry. 
People might say to never brush the hair while it's dry, but the hair is known to stretch up to 40% when the hair is wet which can alter the hair's shape when it dries.
As long as you take a small section at a time, it will come out beautiful, just be gentle. :) 
Starting from the bottom of each section working your way up to the roots of each section of hair. 
How To Wash Afro Hair Extensions
Now gently place the afro hair extensions inside your sink filled with luke warm water and a bit of moisturizing shampoo.
After soaking for a minute or two, gently squeeze the suds through the hair extensions until the suds thoroughly clean the afro hair exstensions.  
Quick tip human hair wig don'ts:
Do not pull or tug on the hair extensions
Do not vigorously rub the hair extensions roughly
Now after the hair is thoroughly shampooed unplug the sink's water.
Add fresh new luke warm to cool water to the sink to rinse the wig completely. Place the faucet's water over the wig while squeezing the wig simultaneously until the water runs clear of suds on the hair extensions. 
Quick hair extension tip:  Using cool water when rinsing the wig will help to close the hair's cuticle and make your wigs appear more silky and shiny with less frizz naturally. 
Also the reason that I said to use luke warm water in the shampoo portion of this article instead of cool water is due to the fact that you slightly want to open the hair cuticle to release the dirt and left over hair products in order to properly clean and maintain nice clean hair extensions. 
Taking care of your hair extensions properly this way will help to keep them for a longer period of time which will save you money. 
How To Sleep In Afro Hair Extensions
This helpful video shows you how to sleep at night to help preserve your pretty curls!
What you do is :
Step 1) Wrap a long scarf around the base of your head to bring the curls high up to the top of your head in order to avoid smashing and preserving your curly afro hair extensions.
Please note: Do NOT tie the scarf too tight because this can disturb the blood circulation to the hair and cause hair loss thinning. So please tie the scarf loose, yet slightly snug, is best! 
Step 2) (Optional) place a shower cap over your head to cover curls completely.  and that's basically it!  Enjoy your new hair sleep routine in order to wake up with beautiful afro curls daily!
How To Style Afro Hair Extensions
Kinky, curly afro hair is so easy to style due to it's natural curl pattern already in place.
The best tips and advice to avoid to help keep hair damage from happening to your hair extensions is to avoid using heavy damaging hair products and heat tools.
Avoid using products such as hair sprays and other products with the ingredient alcohol which can be extremely damaging to the extensions as well as your own hair. 
Even some products that are said to help moisturize your hair could have alcohol in it which then becomes a vicious cycle to keep using the product.
It's best to use moisturizing hair products for your pretty afro hair. 
Also try not to wash hair every day because doing so can cause dry hair which can lead to unhealthy hair breakage.
Use a spray bottle to spray hair using a recipe of 50% water and  50% light leave in conditioner when styling the hair extensions. 
Make sure to use a good deep conditioner once a week for the best results possible to get beautiful Afro curly hair!
Home > Afro Hair Extensions 
Other Related Pages: